The 2022 Summit will occur on July 1, 2022, at St. John's University, 8000, Utopia Pkwy, Queens, NY 11439 where the FetNA convention takes place. The goal of the summit is to bring the Global Tamil organizations together to mobilize and energize the Tamil diaspora to work toward wider Tamil genocide recognition, justice, self-determination, and Eelam Tamil sovereignty-based solution.
New York Summit's main focus is:
Internationally Conducted and Monitored Independence Referendum
Interim International protective mechanism for the Eelam Tamils in the North-East region of the island until the Referendum is held
Advancing Tamil Genocide Recognition WorldWide via Political Advocacy and Legal Means
Tamil Diaspora actions in UNHRC, ICC, ICJ, and countries for bringing legal action against Sri Lanka for its crimes of genocide against Tamils
Economic development for Tamil Eelam in the short and long term for humanitarian and Tamil sovereignty-based economic development
The essence of Tamil's common position on Tamil Eelam struggle for freedom and justice
An Internationally Monitored Referendum for the Eelam Tamils and the Diaspora to determine their Permanent Political Solution.
An Interim Governing Mechanism for the Eelam Tamils to govern and protect themselves and their lands, until the Referendum is held.
The referral of the situation in Sri Lanka to (1) the International Criminal Court (ICC) with respect to genocide, crimes against humanity and war crimes, and crimes of aggression and apartheid; and (2) legal action against Sri Lanka before the International Court of Justice (ICJ) under the Convention on the Prevention and Punishment of the Crime of Genocide, the Convention against Torture, and crimes of aggression and apartheid.
தமிழர்களின் தமிழீழ விடுதலை மற்றும் நீதிக்கான பொதுக் கொள்கைகள்
1.  1948 ஆம் ஆண்டுக்கு முன்பு இருந்து இலங்கைத் தீவின் வடகிழக்குப் பகுதியில் (வடக்கு மற்றும் கிழக்கு மாகாணங்களில்) தொன்று முதல் இன்று வரை  வாழ்ந்துவரும் மக்களும் அவர்களின் வழித்தோன்றல்களும் பெரிதும் விரும்பும் சனநாயக, அமைதியான மற்றும் நிரந்தர அரசியல் தீர்வை நிறைவேற்றும் பொருட்டு, சர்வதேசத்தின் ஆதரவிலும் சர்வதேசத்தின் கண்காணிப்பிலும் பொது வாக்கெடுப்பு நடைபெறல்.  
2.  பொது வாக்கெடுப்பு நடைபெறும் வரை, தமிழ் மக்கள் தங்களையும் தங்களுடைய நிலங்களையும் பாதுகாக்கும் பொருட்டு, இலங்கைத் தீவின் வடகிழக்குப் பகுதியில் ஒரு இடைக்கால சர்வதேசப் பாதுகாப்புப் பொறிமுறை அமைதல்.
3.  இனப்படுகொலை, மனித குலத்திற்கு எதிரான குற்றங்கள் மற்றும் போர்க்குற்றங்கள் தொடர்பான இலங்கையின் கொடுமைகளை சர்வதேசக் குற்றவியல் நீதிமன்றத்தில் (ICC) முறையிட்டு நீதி பெறுதல், அத்துடன் இனப்படுகொலை குற்றத்தைத் தடுத்தல் மற்றும் தண்டனை வழங்குதல் தொடர்பான உடன்படிக்கையின் கீழ் சர்வதேச நீதிமன்றத்தின் (ICJ) முன் சிறிலங்காவுக்கு எதிரான சட்ட நடவடிக்கைகள் எடுத்தல்.
List of reports and statements for reference: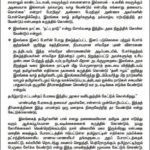 In a historic move, the Tamil Nadu State Assembly on March 27, 2013, unanimously passed a resolution for bringing in arrangements at the level of the UN Security Council to conduct a referendum among Eezham Tamils in the island as well as in the diaspora on the question of Separate Eelam. In addition, the resolution passed at the Tamil Nadu Assembly demanded the Government of India to stop calling Sri Lanka a friendly country. The resolution also included the earlier demands ie., Independent International Investigations on Genocide and War Crimes as well as imposition of economic sanctions on Sri Lanka.
Northern Provincial Council resolution 2015.
https://tamilconferences.org/conferences/second-conference/proceedings/ "2nd International Conference on Tamil Nationhood and Genocide in Sri Lanka" The Legality and Success of Independence Referendums, Prof. Matt Qvortrup, Ph.D. – page 139. Tamils Political Destiny: A Call for Action for a Referendum, Mr. Visuvanathan Rudrakumaran – page 148
Joint letter from major three Tamil political parties and civil society from Eelam to UNHRC in 2021.  https://archive.org/details/final-final-draft-thai-pongal-day "Member States urge in the new resolution that other organs of the United Nations including the UN Security Council and the UN General Assembly take up the matter and take suitable action by reference to the International Criminal Court and any other appropriate and effective international accountability mechanisms to inquire into the crime of genocide, war crimes and crimes against humanity"
Tamil Genocide Education Week Act, 2021. https://www.ola.org/en/legislative-business/bills/parliament-42/session-1/bill-104. (1)The seven-day period in each year ending on May 18 is proclaimed as Tamil Genocide Education Week. (2)During that period, all Ontarians are encouraged to educate themselves about, and to maintain their awareness of, the Tamil genocide and other genocides that have occurred in world history.
H.Res.413 – Recognizing 12 years since the end of the war in Sri Lanka on May 18, 2009, honoring the lives lost, and expressing support for justice, accountability, reconciliation, reconstruction, reparation, and reform in Sri Lanka to ensure a lasting peaceful political solution and a prosperous future for all people of Sri Lanka. – https://www.congress.gov/bill/117th-congress/house-resolution/413/text
Sri Lankan bondholders: Tamils deserve freedom and dignity and you deserve full payment. https://www.change.org/bondholder Here's why we advocate holding out. The Tamil Nation, with a long and proud entrepreneurial history, wants no part of Sri Lanka's self-inflicted misfortune. Sri Lanka incurred this debt to commit genocide against Eelam Tamils. Instead, we'd like the chance to start with a clean financial slate, in a nation where we govern ourselves. We consider ourselves citizens of the occupied state of Tamil Eelam, in the North-East of the island.
Our gratitude to the House of Commons of the Canadian Parliament for unanimously recognizing the Tamil Genocide by Sri Lanka https://fgto.org/news/press-releases/our-gratitude-to-the-house-of-commons-of-the-canadian-parliament-for-unanimously-recognizing-the-tamil-genocide-by-sri-lanka/ wholeheartedly convey our gratitude to the House of Commons of the Canadian Parliament for unanimously recognizing the Tamil Genocide by Sri Lanka and for recognizing May 18th as Tamil Genocide Remembrance Day.
Joint letter from major three Tamil political parties and civil society from Eelam to UNHRC in 2021.  https://archive.org/details/final-final-draft-thai-pongal-day "As the UNHRC meets in February and March 2021 to evaluate the Sri Lankan Government's commitments under Resolution 40/1 and plan further action, we urge that member states categorically come to this conclusion by way of a final Resolution. The Resolution must declare that Sri Lanka has failed in its obligations to investigate allegations of violations committed during the armed ethnic conflict and atrocity crimes including genocide, crimes against humanity and war crimes. In such a context the Resolution must acknowledge that there is no prospect for accountability in Sri Lanka by way of its own domestic mechanisms or through hybrid mechanisms."
Report submitted to USA Tom Lantos human rights commission. "Several of the GOSL armed forces and its military commanders were identified for their crimes against humanity and war crimes by the UN; however, still, there is no tangible action. We appreciated the travel ban on Sri Lanka's military chief by the USA in 2020; however, we would expect more sanctions against other Sri Lankan military and political leaders. GOSL promoted most of their commanders who committed war crimes and established war memorials after destroying Tamil heroes' cemeteries. GOSL built several Buddhist temples in the Tamil homeland to continue its process of cultural genocide and planned to settle Sinhalese around these Buddhist temples and viharas. Instilling fear among Tamils and showing their aggression shows a total elimination of Tamils from their homeland is GOSL's agenda. There is no accountability for these aggressions but only a continuous genocidal program by the successive Sri Lankan governments."